Johnson County Mental Health
Case Study: Johnson County Mental Health
Government Agency, Mental Health
Category: Strategic Story, Creative Production
Capabilities Employed: Strategy Development, Creative Direction, Branding, Video Production, Graphic Design, Script Writing, Social Media Strategy
Johnson County Mental Health Center (JCMHC) provides comprehensive community mental health and substance abuse services to improve quality of life for community members of Johnson County, Kansas.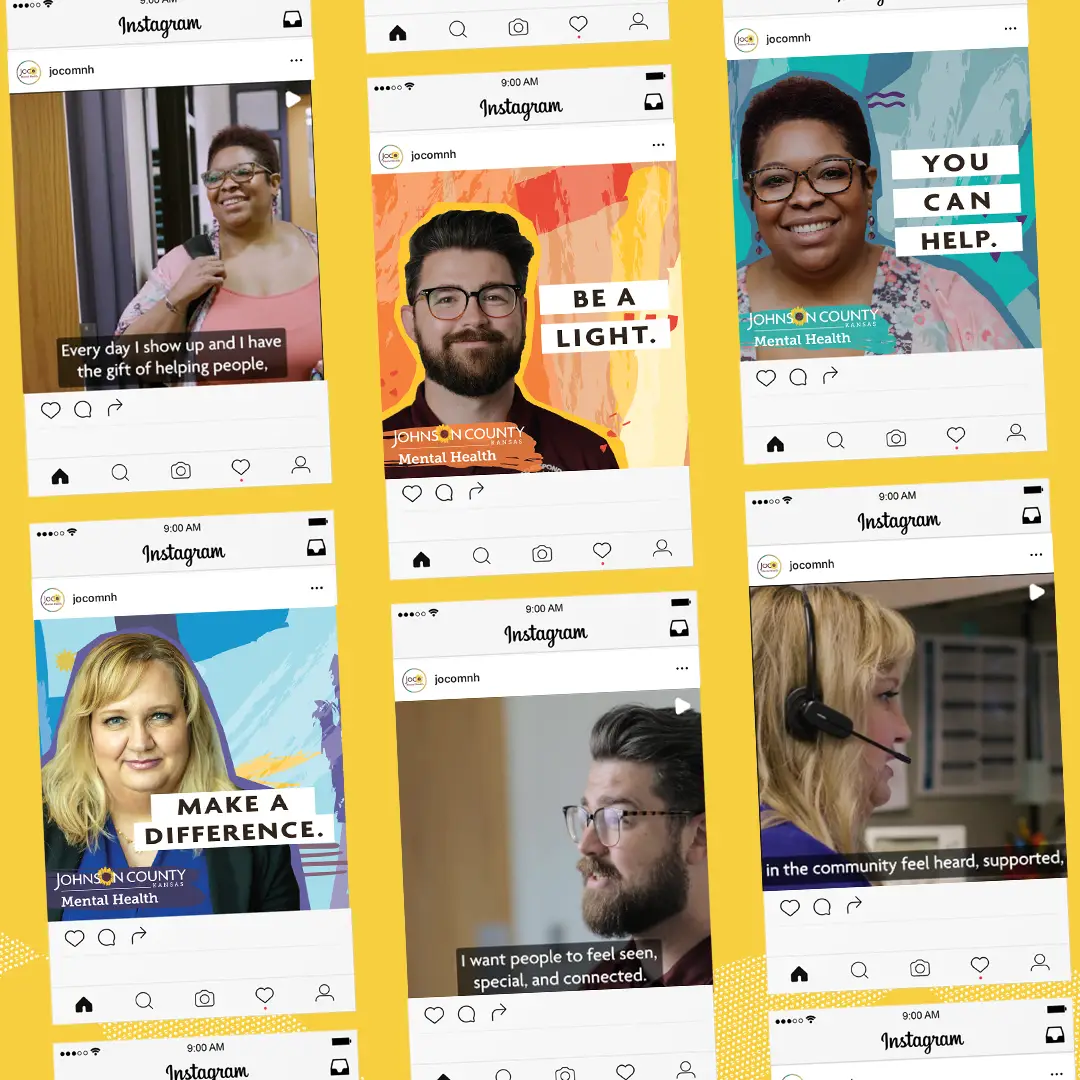 With the rise in mental health concerns amidst the COVID-19 pandemic, the need for support services increased and the importance of communicating local resources became even greater. In 2020 and 2021,
Johnson County Mental Health Center
wanted to launch a strategy to increase widespread awareness and utilization of their 24/7 crisis line. In 2022, the mental health center wanted to launch a new campaign to help the community get to know the people who work there and what they do, as well as attract more talented individuals to work there, as workforce shortages are prevalent in many healthcare spaces.
For the 24/7 Crisis Line campaign, Overflow approached this through three storylines: referrals to other community services, proactive prevention strategies and immediate crisis intervention. A consistent brand identity was created and informed visual continuity throughout the campaign's digital and print pieces. Broadcast advertising, organic and paid social media story campaigns in English and Spanish were shared, along with community activation materials in public spaces around Johnson County, such as posters in public areas, tear-away flyers and even gas pump advertisements. This campaign was nominated for a
Mid-America EMMY® Award
.
For the See A Helper and Be A Helper campaigns in 2022, Overflow extended on the previous campaign to keep a consistent aesthetic as the mental health center shifted messaging to include more information across their entire suite of services. This project involved working closely with real employees of the mental health center to share their personal stories, what motivates them to do the work they do and what they're passionate about outside of work. The goal was to broadly communicate the common humanity that mental health professionals share with the individuals they're serving in the community. In addition, the Be A Helper campaign aimed to bring new talent to the organization, helping prospects understand the work better and where they might find a role within the organization.